Well after all the fuss we investigated nearly 2 weeks ago HERE which ended in the auction being withdrawn and seemingly the Ebayers account closed, nigel17031971 is back on Ebay again with a new auction for the same game – with proper photos taken this time and an explanation why!
So here you go – http://cgi.ebay.co.uk/ws/eBayISAPI.dll?ViewItem&item=270649526052&ssPageName=STRK:MEWAX:IT
Bidding starts at £200 finishing on Sunday 24th October at 6:21pm (GMT). With the new photos added of the game in action, the box and instructions which I've not seen being used elsewhere this does, after all that, appear to be a legitimate auction.
Nigel explains the situation around this especially as the original auction looked so dodgy considering what a rare item it is and also mentions this very site –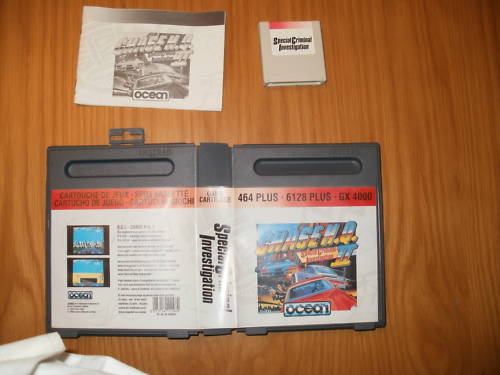 "There it lay until early 2010 when I finally decided to move, and was clearing out my loft. Initially I was just going to chuck the lot away, but decided to keep it, after I discovered that the console and all the games still worked. Becoming bored with the few games I have I decided to try the internet to see if I could get any more, reasoning that as the console was so old, they would be very cheap by now. It was then I discovered the Amstrad GX4000 web site and found just how rare the game that I had in my possession was. It was around this time that my internet went down, and I had to wait three weeks to be reconnected. During this time I just wanted to list my game on e-bay and so used my sister's computer to do so. I copied an image of the game from a web site (reasoning that it was exactly the same as the one that I wanted to sell) and listed the game).I was then overwhelmed with e-mails from people asking to see actual pictures of the game I had. I was unable to do this, as neither my camera nor scanner worked, I therefore decided to wait and sell the game when I could do so. The images (above) are actual photos of my game and I am now able to e-mail further images should you require to see them before biding."
Well happy bidding peeps, lets see how this one goes…
One final note however … PLEASE … whoever does win the auction do get in contact with the people on the CPC Wiki Forums and let them safely dump the game ROM – there is a method to do this safely without damaging the cart in any way. Please don't get it for your collection and leave it collecting dust on a shelf somewhere and deprive thousands of Amstrad fans the opportunity to play this game. Thank you.