This has been a long time in the works, but finally the completed remake for the classic arcade coin-op "Ghosts'N Goblins" for the Amstrad GX4000 has been released!
There's so very few games for Alan Sugar's failed console, so having a new game made for it is quite special! Especially considering it's frickin' "Ghosts'N Goblins" and the original conversion by Elite Systems to the normal Amstrad CPC over 30 years ago wasn't really up to scratch with missing levels, Arthur's doesn't lose his armour to run around in his pants, etc!
We have Xifos to thank for coding this and also doing the graphics, with Targhan doing the music and sound. This is as close to the arcade original you're going to find on an Amstrad machine!!
To thank them for this, I've made some box art for this release –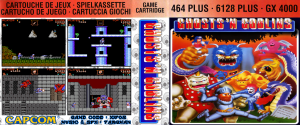 For more information and where to download the game please see the CPC Wiki Forum topic – http://www.cpcwiki.eu/forum/games/ghosts'n-goblins-gx4000-is-out-!/
And if you read this in time, tomorrow Friday 1st June I'll be doing a live longplay of this game on my YouTube channel at 9pm (BST)! https://gaming.youtube.com/c/Xyphoe/live