Well it looks like the holy grail of Amstrad carts, and indeed games across all the Amstrad platforms generally has surfaced for sale on Ebay!
Here's the link to the auction –
http://cgi.ebay.co.uk/ws/eBayISAPI.dll?ViewItem&item=270644070376&ssPageName=STRK:MEWAX:IT
Unfortunately it looks rather suspicious – the seller "nigel7031971″ has zero feedback(!!) and no other auctions up, and there's only one photo shown for the item that looks rather familiar….
Compare with – http://gx4000.co.uk/gamebase/games.php?game=specialcriminalinvestigations
Here's the photo used on the auction –
http://i.ebayimg.com/21/!B4ecj4Q!Wk~$%28KGrHqUOKjkEyP+QVwDHBMqE,oUlmw~~_35.JPG

Now the photo we have on our site –
http://gx4000.co.uk/gamebase/images/specialcriminalinvestigations/pack1.jpg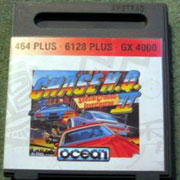 Hmmm!!! Note that photo was put live on this very website in December 2008! The photo was originally taken by the only known owner of the game James Bridges several months previous which he posted on the old cpczone.net forums (now sadly defunct) – of course that is where we got it from.
Seems this Ebayer has then taken it from our site!
We will try and contact the seller to clear this up, but for the time being …. our advice is to be very cautious.
*UPDATE* 06/10/2010 09:10am
A forum member "ukmarkh" on the cpcwiki.eu forums has contacted Martyn Carrol of Retro Gamer magazine who wrote the article on the Chase HQ 2 cart and personally viewed the game that James Bridges owns. Martyn was able to contact James who replied -"Hi Martyn, it is not my one. I will be very interested to see how much it sells for! James"
So at least we now know that it isn't James selling the cart under a different name to protect his identity.
*UPDATE* 06/10/2010 20:30pm

The seller has replied to my email. It seems that he will allow collection in person and testing on his own GX4000 console – which is good news. The worrying part of his reply is that he appears unable to take any more, or should I saw 'new' photos. Come on … who at least doesn't own a digital camera or mobile phone that takes pics these days??
*UPDATE* 07/10/2010 00:30am
The auction is no longer available and has been removed.
The seller is also no longer a registered Ebay user –
http://myworld.ebay.co.uk/nigel17031971
Draw your own conclusions. What a shame and waste of time, getting everyone hopes and expectations up! Oh well …. welcome to the murky world of collecting/trading rare retro games!